Lady Lewis
---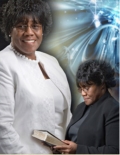 Dr. Wilhelminia Lewis is a graduate of Vienna High located in Industrial Vienna, Georgia. She earned her Bachelor s Degree from Albany State University, Albany, GA, her Masters of

Early Childhood Education from Georgia South Western University, Americus, GA. She is the mother of four children. Wilhelminia gives all credit for success and what she has accomplished to God and the continuous support and encouragement from her husband, her children, mother (Mattie Ruth)and big sister in Christ Dorothy Wingo.

First Lady Wilheminia Lewis is the awesome and Spiritually Gifted Pastor's Wife of Dr James A Lewis Sr., who is the Pastor of New Testament Christian Center Church, located in Columbus, GA.
First Lady Wilhelminia is committed to obey and serve God.
She is an awesome woman of God who stands besides the awesome man of God. Her giving heart and unique style of teaching flow with the compassion of Jesus as she ministers to the women of New Testament and the world. First Lady Wilhelminia often uses herbumps and bruises of lifeas a living example.Sheis a continuous testimony and example of a woman living the overcoming Christian Life.

Contact First Lady at:
Email: 1stlady@ntccc.org
Phone: 706-571-0087